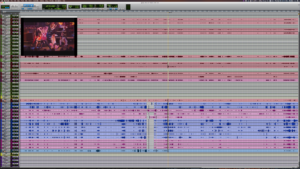 Figured I would share one of the many things I do but don't post on the website. The Eagle Theatre had Rock of Ages to begin their 2017 season. It sold out every night and even the added performance. I run the live sound at the theatre.
This is the Rock of Ages session that was recorded for the theatre's archival purposes. I'm remixing it to sound WAY better than what the video guy got through the board. This consists of Drums, bass, 3 guitars, 2 keyboards and 14 vocals – also in the session is the conductor's mic, a spare mic that lived on stage that sometimes was sung into as a prop, a MAC channel for sound effects and finally, the camera audio which is more of the room. You can click on the image for a 4k screenshot of the Pro Tools session.
Live sound is much different, and in this show's case, the drums being in the room never made it into the PA, hence, not the board recording.
I asked for a low res video of the show so the remix can sound like it should by looking like it should. If I decide to get fancy and start panning stuff, I want to make sure I go where the performance came from.
Anyway, it's tedious and very time consuming so you better love what you do, and who doesn't love mixing audio?
This session is approximately 2 hours long. That's about how long it took Andrew Scheps to explain to me how he mixed Green Day's "Bang, Bang" which is a 3:26 song. Considering that it takes anywhere from 4-10 hours to actually mix a 3:26 song, think of the time I'm spending in this Rock of Ages session. *sigh* Also, everything has to be automated within one session to create one resulting file. Can't break them up and mix each individually so all levels, mutes, etc have to be done on a consistent two hour audio file.
… and they always ask how long it's going to take – why does it take so long …